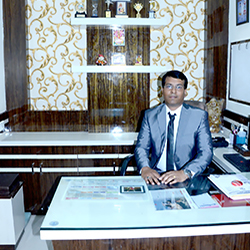 Dr. Amit Agrawal
M.B.B.S. , M.S.(Surgery)
M.Ch. (Plastic Surgery)
F.C.L.S.(Mumbai)
Goldmedalist
Cosmetic & Plastic Surgeon
Dr. Amit Agrawal is a Practicing Senior Plastic, Cosmetic & laser surgeon in Gwalior since 2008, famous for his best care in exclusive Cosmetic & Plastic Surgery field
Dr. Amit Agrawal has been in the field & Plastic Surgery since last 16 years and is qualified as M.Ch (Plastic Surgery ) from the Gujarat university & associated N H L Medical College & VS Group of Hospital, Ahmedabad in the year 2006. Dr Agrawal has been awarded prestigious Prof PK Bilwani Gold Medal by Gujarat University for the best performance & securing highest marks in M.Ch Plastic & reconstructive Surgery among all candidates.
He belong to the 1993 batch of G.R Medical College, Gwalior & obtained M.B.B.S degree from Jiwaji University Gwalior, has been awarded as Best Student during his undergraduate M.B.B.S course & simultaneously awarded prestigious col B.K Awasthi Gold medal in Anatomy.
Dr. Agrawal has done his M.S. (Gen. Surgery) degree from Barkatullaha University & associated Gandhi Medical College, Bhopal in the year 2003.
After doing his specialization in plastic surgery from Ahmedabad he has done 6 month fellowship in cosmetic & laser surgery under Dr L.D dhami M.CH (plastic surgery) cosmetic & laser surgeon at vasudhan arjin cosmetic & laser surgery center Mumbai & expertise in all cosmetic surgery eg. Liposuction rhinoplasty oreast silicon implant etc. & all cosmetological prouduseseg-laser hair removal laser facial botox & filler chemical peeling etc.
After doing his specialization in Plastic Surgery from Ahmedabad he has done fellowship in Cosmetic & laser Surgery under Dr L.D Dhami M.Ch (Plastic Surgery) Cosmetic & laser Surgeon at Vasudhan Arjin Cosmetic & laser surgery center, Mumbai & expertise in all Cosmetic Surgery such as Liposuction, Rhinoplasty, Breast silicon implant & all other Cosmetological Procedures-laser hair removal, laser facial, botox & filler, Chemical Peeling etc.
He has done basic course of Microsurgical Technique conducted at Ethicon institute of Surgical eduction ,Mumbai in year 2007.
He has done Micro reconstruction training under Dr. Prabha Yadav M.S (Plastic Surgery) Professor & Head Plastic & Reconstructive Surgery at TATA Memorial Hospital Mumbai in year 2006.
Following his journey in learing arts of Laser & Cosmetic surgery from Mumbai he started his own practice in Gwalior from 2008.
He worked as a Visiting Consultant Plastic & Cosmetic Surgery at Mascot Hospital Gwalior from 2010 to 2015 & did all type of Plastic surgery, Burns, Trauma recostructionand Cosmetic Surgery work.
He has his own Nurshing home Vedant hospital Comoshine Cosmetic Surgery & laser center at Morar, Gwalior since 2010 and doing all type of Cosmetic Plastic & laser surgeries
Dr. Amit Agrawal is also working as a Project Director of Smile Train International Organisation for free Cleft lip & Palate Surgery at Vedant Hospital since 2012 & has done > 1000 Cleft lip & Palate surgery free of cost.
He is a member of-
1. Indian Medical Association (IMA)
2. Association Of Plastic Surgeons Of India (APSI)
3. Association Of Cosmetic & Laser Surgeons (ACLS)