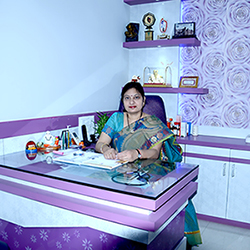 Dr. Namita Agrawal
M.B.B.S, M.D.(Obst & Gynaec)
Goldmedalist
Consultant Obstetrician & Gynecologist
Dr. Namita Agrawal is a Senior Constultant Obestetrics & Gynecology practicing in Gwalior since 2008.
Dr. Namita has done his under graduate M.B.B.S degree from G.R. Medical College Gwalior 1994 batch & awarded Gold medal & Distinction in ENT by prestigious Jiwaji university, Gwalior
She has done her Specialization M.D (Obstetric & Gynecology) from Gandhi Medical College, Bhopal & associated Barkatullaha University Bhopal in the year 2004.
Following her Specialization, She worked as a full timer Obstetrician & Gynecologist at Rajasthan Hospital & Medical research institute, Ahmedabad Gujarat for two year 2004 to 2006
Worked as an associate consultant for 6 month with Dr sanjay R shah (Mumbai) where learned Endoscopic Surgeries & Infertility management.
She has done IUI training from Bhavishi infertility center Ahmedabad & ultrasound course from Dr B.I Patel ultra sound center Ahmedabad (Gujarat)
After learning all skills in Gynecology she started her own practice in Gwalior since 2008 & has own Nurshing home Vedant hospital & Maternity home & delivering all services in field of Gynecology, such as Total antenatal care, Caesarian sections & delivery routine Gynecological operation, family planning, Infertility treatement & Gynecological Pastic surgery such as Tuboplasty, Hymenoplasty etc
She is also working as a Visiting consultant OBG in Airforce hospital Maharajpura Gwalior & St. joseph hospital Badagaon Gwalior.